About Alerna Kidney Health
Alerna Kidney health is a range of products that claim to cater for your kidney health.
The main products under this brand are four in number; Uric Acid Support, Kidney Support, D-Mannose and Tart Cherry.
The products are formulated by a blend of antioxidants, herbs and vitamins which play unique roles in kidney health.
Now, in this review we will focus on one supplement, Uric Acid Support, learn about its ingredients and find whether it is effective or not.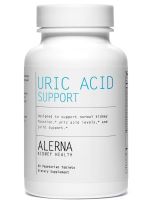 According to the Nature Reviews: Nephrology journal, some supplements may help support outcomes in patients suffering from Chronic Kidney Disease. And this is exactly what this brand is all about, kidney health.
Alerna Kidney Health Ingredients – What to Look For?
Uric Acid Support just as the name suggests, is a product that claims to maintain healthy levels of uric acid. The ingredients present in this supplement include;
Tart cherry– this is a nutritious fruit that contains a number of useful chemical compounds. According to a research conducted by Evidence Based Complementary and Alternative Medicine, tart cherry is used to counter gout, a disorder that is caused by the crystallization of uric acid around or inside the joint area.
Grape seed extract– this ingredient has a number of active compounds, namely; catechins, epicatechins and procynadins. According to the Journal of Neuroinflammation, procynadins were discovered to reduce gout pain, swelling as well hinder activation of the crystallization of uric acid.
Turmeric– this ingredient has been in use for controlling inflammation for ages. It contains polyphenols which have antioxidant properties. In the Medicina journal, polyphenols in turmeric were discovered to have the ability to lower uric acid.
Vitamin B– in many studies, the relationship between vitamin B and uric acid is inconclusive. However, according to the American Journal of Clinical Nutrition, folic acid reduced uric acid concentration in hypertensive individuals significantly.
Vitamin C– according to the Arthritis Care and Research journal, supplementation of vitamin C lowered serum uric acid. The study concluded that future studies should look into the role of vitamin C in reducing hyperuricemia (risk factor for gout).
 How Does It Work? | The Science Behind Alerna Kidney Health
Uric acid is a waste product that occurs naturally after the digestion of foods that contain purine. Foods such as meat, sardines and dried beans are rich in purine content. Uric acid levels shoot when the kidneys fail to eliminate uric acid effectively causing serious issues such as gout.
So to ensure efficient elimination of uric acid, Uric Acid Support through its unique ingredients work to help the kidney conduct this function. With an ingredient such as vitamin C for instance, uric acid level is reduced. Other ingredients such as grape seed extract inhibit the activation of enzymes that may cause uric acid crystallization.
Alerna Kidney Health Pros & Cons
Pros
It may help restore kidney function
May play a role in preventing serious conditions such as gout
Claims to reduce inflammations caused by gout
May help prevent uric acid stones
Cons
Product may not work as advertised
Pain may not reduce as expected
Some patients may react to this product
Gout may still be experienced
Customer Questions & Answers for Alerna Uric Acid Support Reviews:

Q: How to Use Alerna Kidney Health
A: For Uric Acid Support, take 2 tablets in the morning and 2 tablets in the evening. Take with food and water.
Q: Does Alerna Kidney Health Have Any Side Effects?
A: Although the company does not mention any, some customers complained of worsening pain and getting allergic reactions due to the supplement.
Q: Can I Take Alerna Kidney Health If I Have A Health Condition?
A: Yes as there are no restrictions issued for this product, however it is still advisable to consult with your doctor.
Q: Does Alerna Kidney Health Work?
A: This product may work since most of the ingredients have scientific proof for their effectiveness.
Q: What Is Alerna Kidney Health Moneyback Guarantee, Return & Refund Policy?
A: Unsatisfied customers can return products and get a full refund including the shipping fee.  
Alerna Kidney Health Alternatives – Compare with Similar Items
Brand

 

Price
Active Ingredients
Uriva
$24.47
Tart cherry, celery seed, turmeric, white willow bark, devil's claw
Nusa Pure Tart Cherry
$15.99
Tart cherry
Purge
$29.99
Celery seed extract, Montmorency whole tart cherry, chanca piedra, hydrangea extract, piper nigrum fruit
Is Alerna Kidney Health Safe? – Warnings & Complaints
This product claims to be formulated by kidney specialists hence it could be safe.
Alerna Kidney Health Customer Reviews & Results – What Users Are Saying
Consumers gave conflicting reviews regarding this product. While some claimed that their gout was healed others claimed that it worsened their pain.
Alerna Kidney Health: Packages, Deals, Prices & Where to Buy It
A bottle of Uric Acid Support contains 30 tablets and costs $19.99. Together with the other supplements, it can be bought from the official website or other online platforms.
The other supplement prices include;
Kidney support costs $5.99

D-Mannose costs $13.99

Tart Cherry costs $11.99
In order to get a discount on Alerna Kidney Health products, you can subscribe on their official website. Doing so will help you save up to 10%. For instance, a one-time purchase of Uric Acid Support costs $19.99 but when you subscribe you only pay $17.99.
The Bottom Line on Alerna Kidney Health
Uric acid build up in the body causes serious conditions such as gout. The reason behind this increase may be due to diabetes, obesity, alcohol consumption and purine rich foods. And to help with this situation, Uric Acid Support comes into play. It helps reduce uric acid levels thus preventing dangerous conditions such as gout.
However, uric acid support may not work for all. Some patients complained of their pain worsening and experiencing negative reactions towards the supplement. In such a case, you will need to search for other options.
Is There Anything Else You Should Know About Alerna Kidney Health?

There are natural ways to reduce uric acid in the body. These include;
Limiting the intake of purine rich foods

Maintaining a healthy weight

Avoiding sugar

Avoiding alcohol

Adding fiber to your diet