What is B-Tight Cellulite Cream?
B-Tight Cellulite Cream is specifically a butt and thigh firmer cream.
However, it is also claimed to help to minimize the appearance of cellulite, and its regular use bring in notable results, according to the manufacturer.
It promises quick results citing the fact that it is formulated with all the right ingredients.
These said ingredients are claimed to work synergistically and efficiently to burn most of the less required fat cells insides the skin's epidermis hence giving you a leaner look.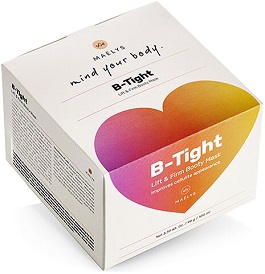 It supposedly works on all types of skin, and that it is designed to be used by both men and women.
In particular, the producer says people that want to correct saggy skin to have it tighter or in other words people who want to maintain their body shape may find this stuff helpful.
B-Tight lifts and firms booty as well, it promises to increase skin elasticity and firmness around these areas, while at the same time leaving your body extra smooth, like most other similar products.
B-Tight Cellulite Cream Ingredients – Are they Safe & Effective?
Ingredients present in the product are claimed to be essential in effectively firming and lifting the behind. They are also considered safe because most of them are already being used in other similar creams.
The thing that may seem a bit unique with this product is how it designs its formulation by combining ingredients that commonly appear in weight loss supplement with those that are commonly constituted in ordinary skincare products. The ingredients present in the B-Tight Cellulite Cream include:
Guarana [1] – this Brazilian fruit is known for its soft drink production owing to its high caffeine content. Caffeine being a stimulant contribute highly to the fat burning process. Guarana is also packed with effective antioxidants which may aid fat burning. This is according to a randomized double-blind lab test that appears in one research article in the International Journal of Obesity.
Red Grape Fruit Oil – this active ingredient may play a major role in reducing fat accumulation, according to a scientific publication that appears in the journal Neuroscience Letters. It also enhances circulation which in the long run lessens the appearance of cellulite giving the behind a firmer look.
EcoSlim – this is a natural weight loss supplement that has several ingredients components in its formulation. In this case it plays the part of boosting metabolism which then improves circulation and fat burning, as suggested in a review article in the journal European Review for Medical and Pharmacological Sciences. Apart from that, some ingredients in EcoSlim may act as body detox agents.
Pink Pepperslim [2] – this ingredient serves as the product's slimming active. It works through its pre-lipolytic action which reduces the protection of the skin's fat reserves. The pepperslim focuses on bulky lipid droplets by allowing enzyme lipase3 to break them to tiny droplets for easy fat burning.
Who is the Manufacturer of B-Tight Cellulite Cream?  
The actual producer of B-Tight lift and firm booty firmer is MAELYS a cosmetic company in the US.
As at now it seems like it's the only cellulite cream they currently have in the market, plus it's not clear how long they have been in operation.
However, the product is described into details on their main website, pointing out things like its direction of use the reviews left by customers who've used it and other important basic information about the cream.
Apart from the website, the company has a social media presence, and they seem to be more active on Instagram where they engage with their fans.
How Does B-Tight Cellulite Cream Work?
B-Tight Cellulite Cream works through burning fat underneath the skin. Since cellulite is caused by the accumulation of fat cells under the skin, the active ingredients in the cream accelerate blood flow to the problem areas in this case, the thighs and butt.
The cream is usually applied on the butt and thighs and after a few minutes, which then triggers a warm sensation that in most cases last up to two hours indicating that the constituents in the formulation are working.
What are the advantages of B-Tight Cellulite Cream?
Users may, with time get a leaner, firmer and lifted booty with regular use of the product.
People looking to have their cellulite reduced may find this product helpful.
It has a list of well-defined ingredients are likely to deliver the product's promise.
It offers buyers a 60 day money back guarantee for users who are not satisfied with the results.
The cream is also cruelty free so no animal testing is done by the manufacturers.
All the relevant information about the product has been provides on the product's official website.
What are the disadvantages of B-Tight Cellulite Cream?
The cream is not to be applied on the face, only the specified regions.
It may take three weeks for any significant changes to be spotted which could be slow for someone looking for instantaneous results.
The price could be quite high compared to similar products
It is not clear if the lifting and firming effect will remain even after the cream has been used up.
The cream cannot be used by pregnant women who are most likely battling with cellulite due to weight gain.
B-Tight Cream Alternatives – Compare with Similar Items
Brand

 

Price
Active Ingredients
B-Tight Cellulite Cream
$49
Guarana, Red Grape Fruit Oil, Pink Pepperslim, EcoSlim
Asap Cellulite & Skin Firming
$69.42
Caffeine, Forskolin, Genistein, Aspartame, Solanum Lycopersicum
Weleda Cellulite Body Oil
$24.99
Jojoba Seed Oil, Wheat Germ Oil, Apricot Kernel Oil, Rosemary Leaf Extract, Ruscus Aculeatus Root Extract, Betula Alba Leaf Extract
Velashape Reaffirming Complex Gel
$48.87
Lavender, Anthemis Nobilis Flower, Bergamot Fruit, Cedrus Atlantica Bark, Rose Flower, Pellagernium Graveolens Flower, Grapefruit Peel
StriVectin Tightening Body Cream
$59
Shea Butter, Candelilla Wax, Peptides, Glycerin, Jojoba Seed Oil, Caffeine
FAQ's
Q: How Is B-Tight Cellulite Cream Used?
A: Directions of using the cream indicate it should be applied generously on the butt and thighs. After the application, wait for a few minutes until you feel some warm sensation, after which you are to massage the cream gently to help it sip-in.
Q: How Much Does B-Tight Cellulite Cream Cost?
A: The product goes for $49 per jar, $40 each for two jars and $35 each for three jars at retail price.
Q: What is B-Tight Cellulite Cream's Return Policy?
A: They offer a risk free 60 day money back guarantee for every customer who feels he/she was not satisfied by the result.
Q: Does B-Tight Cellulite Cream Offer a Free Trial?
A: There are no suggestions of free trials being offered for the product on the official website.
B-Tight Cellulite Cream Product Review- Final Verdict
Having that sexy and firm bikini body is something everyone drools over though achieving it could prove hard. This has thus inspired many cosmetic manufacturers to factor cellulite removal as one of the key benefits in their skincare products.
Now what makes this cream a bit unique is that it is specifically designed or custom made to help resolve the appearance of cellulite ridden regions on the body, the way most better rated products are designed.
The proof of effectiveness given by the producer is highlighted in a survey, which suggests that over 95% of customer reviews are positive, and that most users agree their skin became tighter after using the product, 91% report their cellulite has reduced and 91% are comfortable with recommending this product to a friend.
This may look impressive, but a good analysis should mostly focus on what clinical tests say about the product or its ingredients.
However, like other skin care products, B-Tight Cellulite Cream has its own shortcoming. The manufacturer doesn't highlight some of the side effects that could be caused by the cream, or at least the potential signs that may indicate the cream is not suitable for certain people, which is a great requirement and one of the likely reasons why they have the product's return policy.
Cellulite issues have become a wide topic and there are good products one may benefit from.