What is Nuun Active Hydration?
Nuun Active Hydration is a blend of electrolytes that is claimed to help in the physical process of hydration.
This product consists of drink tablets whose ingredients are said to be plant-based, gluten free, nut free, soy free and dairy free.
This hydration beverage is also sugar free and instead uses natural sweetening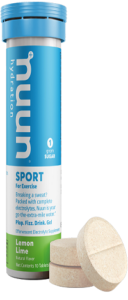 ingredients.
[Ad] Oxalate Protector: Patented Kidney Support-->(click to see).
Nuun Active Hydration comes in six flavors; triberry, grape, tropical, strawberry lemonade, fruit punch and lemon lime to cater for various consumer tastes.
According to the producers, this hydration drink is suitable for everyone even children but not in large amounts due to its caffeine content.
People with diabetes as well as pregnant women can also use this product but are advised to seek medical consultation first.
Nuun Active Hydration plays four major roles as per the producers. It hydrates sport enthusiasts, helps in recovery and relaxation, boosts immunity and is a vitamin source for daily wellness.
Who is the Manufacturer of Nuun Active Hydration?  
The manufacturer of Nuun Active Hydration is a company that has the hydration of its consumers at heart. These producers also claim to be concerned with their customers' overall well-being which is why they use all natural ingredients for their products.
Similarly, the mission of the company is to inspire its customer base to exercise a lot without having to worry about dehydration.
The values of the company is to deliver clean products, clean sport and eventually, a clean planet.
How Does Nuun Active Hydration work?
Fluids, solutes and nutrients in the body always fluctuate which calls for constant hydration.
Nuun Active Hydration are hydrating tablets which when mixed with water claim to boost lost electrolytes, fluids and nutrients in the body owing to the blend of electrolytes that the tablets are packed with.
These tablets are fizzy and dissolve fast in water creating a hydrating drink that is not only tasty but also loaded with electrolytes.
Nuun Active Hydration Ingredients – Are they Safe & Effective?
Nuun drink tablets are said to contain natural ingredients that are plant-based with no sugar and additives. Producers also claim that Nuun contains no preservatives and its calories content is quite low. Some of the ingredients present in the tablets are:
Dextrose[1]-this simple sugar is sourced from corn and is commonly used in baking products. It is a sweetening product that is present in corn syrup and processed foods.
Citric Acid– this ingredient is commonly found in citrus fruits. It is absorbed well in the gastrointestinal tract where it reacts with citrose to produce oxaloacetic acid acetic acid. Citric acid has antimicrobial and antioxidant properties which are all required by the body to fight off microbes.
Monk Fruit Extract[2]– this ingredient is from the monk fruit. Highly used for its natural sweetening ability. Has zero calories and carbs and does not impact blood pressure.
Stevia Leaf Extract– this is another organic sweetener that is a great alternative for consumers trying to reduce artificial sweetener intake.
Avocado Oil– this ingredient is used for its rich fatty acid content and moisturizing properties. Avocado oil is also rich in vitamin E, lecithin, potassium among other nourishing as well as moisturizing nutrients.
Riboflavin[3]– prominently known as vitamin B2 and is require for growth and overall well-being. The solubility of this ingredient in water means that it is readily lost and should be replaced often. Vitamin B2 is also needed for energy production, eye health as well as development and healthy functioning of the skin.
What are the advantages of Nuun Active Hydration?
This product has a number of advantages including:
This product claims to have the ability to boost fluids, electrolytes and nutrients. Consumers using it may benefit from the hydrating effects of Nuun.
Nuun active Hydration is said to be suitable for all, including children, those with diabetes and pregnant women. It is thus all inclusive.
This variety pack comes with six different flavors which cater for different consumer preference.
These tablets are said to be gluten free, nut free, dairy free and soy free. Consumers with allergic reactions to these foods may use the product comfortably.
According to the producers, this product is tasty which makes hydrating enjoyable.
The products is said to have no artificial sweeteners, other additives and preservatives making it ideal for organic enthusiasts.
Nuun Active Hydration is claimed to contain low calories which is efficient for weight watchers.
What are the disadvantages of Nuun Active Hydration?
Nuun Active has the following disadvantages:
This product costs $31.78 which is quite pricy compared to other hydrating products.
Stevia extracts are known to cause nausea in some people. Since it is an ingredient in this product, some consumers may find it unpleasant to use the product.
Producers of this product also fail to indicate the side effects that may be associated with using this product.
Dependence on this product could result in people reducing their water intake in favor of this beverage.
FAQ's
How Is Nuun Active Hydration Used?
The company's recommended use is to not exceed 6 tablets a day. Since hydration needs from one person to the other differs, consumers may use however much they need but should not exceed the limit.
How Much Does Nuun Active Hydration Cost?
This variety pack goes for $31.78 on amazon.
What is Nuun Active Hydration Return Policy?
For consumers with issues with their order, they are advised to contact the company vial mail or call to be assisted. As for expired products, they are considered to be viable for another 6 more months (if still sealed) and 2 to 3 months (if opened). The company however does not replace expired products.
Does Nuun Active Hydration Offer a Free Trial?
The company does not offer free samples when purchasing products. Samples can be gotten during race expos and events only.
Nuun Active Hydration Product Review- Final Verdict
We all get dehydrated every day. However there are a number of risk factors that expose us to chronic dehydration such as vomiting and diarrhea, heavy sweating, clinical condition as well as traveling.
Nuun Active Hydration are hydrating tablets that claim to help in the replenishing of lost nutrients, electrolytes and fluids in the body. It is said to be tasty and made from organic ingredients which makes it favorable.
On the other hand, this product is expensive, could cause nausea due to stevia leaf extract and could make people reduce their water intake.
Hydrating formulas are quite many in the market and can be gotten at a fair price and with other favorable advantages as compared to Nuun Active Hydration. Go for one that meets your consumer needs.