Lubriderm and Aveeno are dermatologist-developed skincare brands that create products for different skin types. These drugstore products provide consumers with body moisturizers that keep the skin soft and hydrated at an affordable price.
Both Lubriderm and Aveeno have gentle formulas that contain ingredients which have been clinically proven. While luxurious products always catch the attention of beauty gurus, these drugstore classics are just as good.
Here, we get into the nitty gritty of what these two brands entail from the ingredients to how they work, we elaborate them all.
What is Lubriderm?
What is Aveeno?

Lubriderm is a daily moisturizing body lotion that claims to keep your skin moisturized for 24 hours. It also contains SPF which gives users sun protection when they step outside. This thick lotion absorbs quite fast and does not leave the skin feeling greasy.

Aveeno is a drugstore classic loved by most consumers. It is a best-seller that tops the moisturizer brands recommended by experts and professionals. It provides 24 hour hydration and features soothing ingredients that relieve irritated skin.

Lubriderm Ingredients
Aveeno Ingredients

Vitamin B5– also known as pantothenic acid, is naturally found in eggs, beef, vegetables, and milk. According to a study in the Journal of Cosmetic Science, 1.0% of panthenol was found to improve the protective effect of skincare formulations.
Avobenzone– this ingredient is a member of dihydrochalcones and is claimed to be relatively safe. Avobenzone is used to protect against harmful UVA rays. In a review study published in the Fronitiers in Medicine, avobenzone is considered an unstable chemical sunscreen. To prevent its degradation by UV rays, it is combined with other stable ingredients such as octocrylene.

Oatmeal– colloidal oatmeal has been used as topical treatment against rashes, itchiness, burns, and eczema for centuries. In a clinical trial published in the Journal of Drugs in Dermatology colloidal oat extracts were found to have anti-oxidant and anti-inflammatory activities thus provide dermatological benefits to the skin.
Glycerin– this ingredient is categorized as a trihydroxy alcohol that has been used in topical formulations for ages. A review in the British Journal of Dermatology, demonstrated the beneficial activities of glycerol to the skin. They include antimicrobial properties, improved wound-healing, and increased epidermal hydration.

How Lubriderm Works
How Aveeno Works

Lubriderm draws its moisturizing effects from vitamin B5 which also has anti-inflammatory properties. When applied to the skin, the skin feels soft and healthy. In case of irritations, this lotion may provide healing effects. It also contains chemical sunscreens to protect from photodamage.

Aveeno contains a prebiotic oat compound that helps to soothe and restore the skin's moisture barrier. This is essential for users battling with dryness, itching, or tightness. Aveeno also contains humectants which attract moisture to the skin.

The Advantages of Lubriderm

The Advantages of Aveeno

May deliver moisturizing benefits to extra-dry skin
May soothe irritations
May protect the skin from sun burns
Has a non-greasy formula thus absorbs easily
Has a fragrance-free version

May help moisturize and soften dry skin
May be great for sensitive skin as it is non-greasy, non-comedogenic, and fragrance free
May be more cost-effective compared to most brands
May help rebuild the skin's protective barrier

The Disadvantages of Lubriderm
The Disadvantages of Aveeno

Contains oxybenzone, a chemical sunscreen that is known to harm coral reefs.

 

Users with allergic reactions to emollients may experience redness, irritation, or stinging

Summary About Lubriderm
Summary About Aveeno

Lubriderm is a great hydrating and soothing formula for extra-dry skin. It is non-greasy thus allows users to enjoy its moisturizing effects without feeling uncomfortable.

 Aveeno is a moisturizing cream that has been tested and clinically proven. It is claimed to show positive results after about 2 weeks. It also offers 24 hours skin protection.
 We also Compared: Bio Oil vs Dermatix
Conclusion
Lubriderm and Aveeno are celebrated moisturizers that are loved by many users. While they carry out almost the same functions, they also have differences. For instance, Lubriderm lotion is available in a 16-fluid ounce bottle while Aveeno lotion is available in an 18-fluid ounce bottle. Although Aveeno costs more than Lubriderm, it is more cost-effective. Therefore, in terms of cost effectiveness, Aveeno takes the lead here.
For users with sensitive skin, Aveeno is the best choice because it is fragrance-free and contains colloidal oatmeal for soothing skin irritations.

On the other hand, for users battling extra-dry skin, Lubriderm is the better choice of the two. This is because Lubriderm lotion is infused with moisture-loving ingredients that replenish the skin's moisture barrier.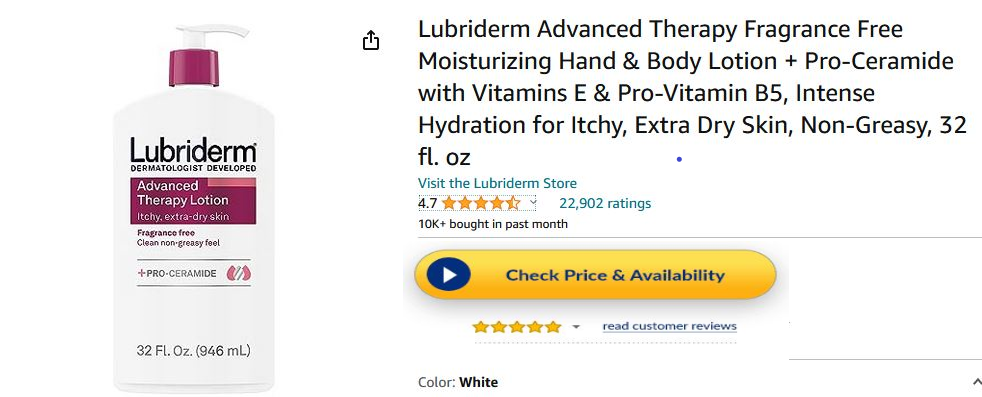 Of the two brands, Aveeno is more popular with users than Lubriderm which could imply that it is more effective. It is claimed to deliver better hydration without leaving the skin feeling greasy and sticky.
But since these moisturizing lotions have varying specialties, users can benefit from both of the products. We hope this article will help you settle for the suitable moisturizer for your skin's needs.
Sources:
Skin hydration and hydrating products:
https://pubmed.ncbi.nlm.nih.gov/29703638/
Skin moisturizing effects of panthenol-based formulation:
https://pubmed.ncbi.nlm.nih.gov/21982351/
Ensuring the safety of sunscreens, and their efficacy in preventing skin cancers: challenges and controversies for clinicians, formulators, and regulators:
https://www.ncbi.nlm.nih.gov/pmc/articles/PMC6736991/
Anti-inflammatory activities of colloidal oatmeal (Avena sativa) contribute to the effectiveness of oats in treatment of itch associated with dry, irritated skin:
https://pubmed.ncbi.nlm.nih.gov/25607907/
Glycerol and the skin: holistic approach to its origin and functions:
https://pubmed.ncbi.nlm.nih.gov/18510666/
Skin irritation and sensitization: mechanisms and new approaches for risk assessment:
https://pubmed.ncbi.nlm.nih.gov/18523410/